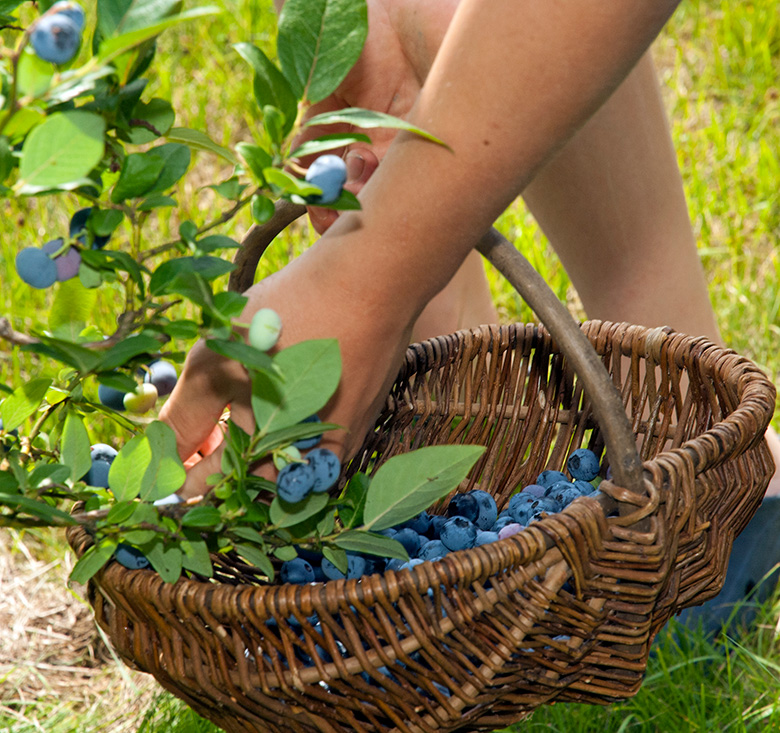 Blueberry Season Hours
WE ARE CLOSED FOR THE SEASON!
Please review our important COVID-19 information prior to visiting.
2020 SEASON PRICING:
$3.00/pint, $6.00/quart, $17.00/4 pounds (1 Gallon)

$4.00/pint, $8.00/quart, $19.00/4 pounds

$5.00/pint, $8.00/quart, $24.00/4 pounds (1 Gallon)
Preparing to Pick
We want you to have a safe and fun experience. Here are a few tips to make sure you're prepared before you head to the farm!
---
Wear plenty of sun block and bring extra
Bring bug repellant spray
Be sure to wear closed toe shoes
Wear pants and long sleeves if possible
Stay hydrated by bringing plenty of water
Bring any medications that you may require
Picking Your Blueberries
Picking your own blueberries is a fun and rewarding experience. Here are some tips for picking at the farm!
---
We will guide you to the fields that have the ripest berries
Pick only berries that are gray-blue color - these are the ripe ones
Gently use your thumb to roll the blueberry off the stem and into your palm
The ripest berries are the sweetest ones
Continue picking until you have the quantity you desire
Have fun!
Storing Your Blueberries
We hope you enjoy all the delicious blueberries you took home. Here are a few tips for storing your blueberries!
---
Remove any berries that appear to have mold to prevent it from spreading to the others
Don't rinse the berries until you're ready to eat them
Dry the berries thoroughly before storing using paper towels
Refrigerate in a breathable container lined with paper towels
Blueberries should stay fresh for up to a week when refrigerated
To freeze, spread on a baking sheet, firm up in the freezer, then transfer to a resealable plastic bag and put them back in the freezer
Benefits of Blueberries
Blueberries are often called a superfood and it's for good reason! Here are just some of the proven benefits from blueberries:
---
Low in calories, but high in nutrients
The King of antioxidant foods
Reduces DNA damage as part of the aging process
May lower blood pressure and prevent heard disease
Helps maintain brain function and improve memory
May help fight urinary tract infections
May reduce muscle damage after strenuous exercise